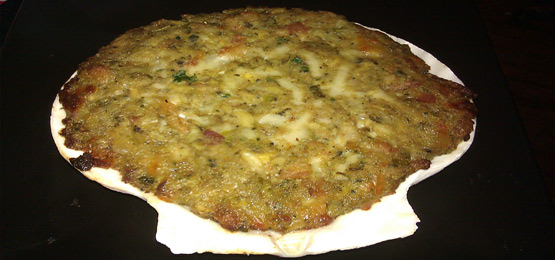 Stuffed Clams
(Serves 12)

25 oz chopped clams (reserve the juice) or 10lbs Quohogs, scrubbed and boiled until they open
½ lb bacon
½ tblsp parsley
½ large yellow onion, finely chopped
1 cup Italian breadcrumbs
1½ tblsp oregano
1 love garlic, minced
5 - 8 oz mozzarella cheese, shredded
½ tblsp Parmesan cheese, grated
½ cup celery, chopped
½ cup white wine
4 oz clam juice

NOTES: I bought clam shaped baking vessels, but you can bake this spread out on a cookie sheet or in low filled muffin tins, or individual ramekins! If your mix is too dry, add some more clam juice, if it's too wet add some more breadcrumbs. This is my Mom's recipe!

Cook the bacon and set aside, drain on paper towels. Add to the bacon grease, the onions, celery and garlic, cook until the onions become soft on low heat. Remove from pan and set aside.
Grind the clams in a food processor. Mix them into the reserved onion mixture, mixing well.
Add into the mix, the parsley, oregano, breadcrumbs, 2 oz of clam juice and the white wine, mix well.
Now add in the mozzarella and Parmesan cheese, mixing well. You want the mix to be a little on the wet side rather then the dry side. Chop the bacon and mix it into the mix.
If you are satisfied with the consistency, slightly more wet then dry, then you can start to fill up empty clam shells, or muffin tins or a sheet pan.
Pack a palm sized amount into each shell, ramekin or muffin compartment, or spread entire mix out onto a cookie sheet, ½ - ¾ high. (No higher then 1 inch)
Pre-heat oven for 10 minutes at 350 °F, put clams mid-oven for about 20 minutes.
Serve while hot! Enjoy!