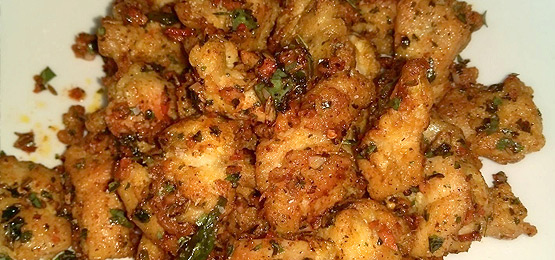 Chicken 65
(Serves 2-4)
4-5 boneless chicken thighs
1½ tsp salt
¾ tsp black pepper
½ tblsp ginger, paste
½ tblsp garlic, paste
2 tblsps corn starch½
1 egg
½ to ¾ cup canola oil, or other oil for frying
1 tblsp oil
1 tsp cumin seeds
1 tsp ginger, minced
1 tblsp garlic, chopped small
2 Green Chilies, Jalapeno or Serrano, depending on how hot you like it
1 dozen curry leaves, chopped
½ tblsp ginger, paste
½ tblsp garlic, paste
1 tsp cumin powder
1 tsp black pepper
1 tsp (bright red) chili powder
1½ tsp salt
3 tblsp chili garlic paste
1 tsp red food coloring, (optional)
1½ tblsp water
1 tblsp cilantro, chopped small
1 lime
NOTES: There are a lot of stories about how chicken 65 got named, there are 65 ingredients in the recipe, it takes the chicken 65 days to marinate, it takes 65 tries to get a restaurant-like taste, but the true story is it originated in a military canteen in Tamil Nadu, India and was the 65th menu item there.
Cut the thighs into 1 inch pieces. In a large bowl mix the chicken, salt, pepper, ginger and garlic paste, and corn starch together. Now add in the egg, mix well.
In a large fry pan, fry the chicken pieces, don't over crowd the fry pan, do in batches. Set the chicken aside.
In a medium sized fry pan, under medium heat, add a tblsp of oil, add the cumin seeds, 1 tsp minced ginger, 1 tblsp chopped garlic, let saute for a few minutes. Now add the chilies, curry leaves, ginger and garlic paste, stir well. Now add 1 tsp powdered cumin, black pepper, chili powder, salt and chili garlic paste. If using it, add the red food coloring in now, mix well.
Just before adding the chicken to the hot spices pan, add in 1½ tblsp water to the mix, thin the mix and then add into the pan the fried chicken, mix fast and thoroughly.
Serve on its own top it with some chopped cilantro and a few squeezes of lime juice.
* I got this recipe from vahrehvah.com If you watch his video the amounts he says and the amount he uses are sometimes very different, but I love this chef!