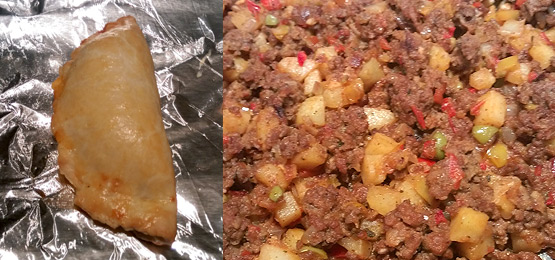 (Serves 12-15 people) Makes about 36
Empanada Dough
3 cups all-purpose flour
¼ to %frac12; teaspoon salt
6 oz unsalted butter (1½ sticks)
1 egg
¼ cup to %frac12; cup of water or milk, adjust as needed to obtain a soft and smooth dough
Beef and Potato Filling
1½ lbs ground beef
1 onion, minced
3 garlic cloves, minced
1 red bell pepper, chopped very small
1 green bell pepper, chopped very small
3 yukon gold potatoes, died very small
12 green olives, stuffed with pimento, chopped small
1 teaspoon granulated onion
1 teaspoon garlic powder
½ teaspoon crushed red pepper flakes
1 teaspoon salt
fresh cracked black pepper
½ teaspoon ground cumin
1 teaspoon dried oregano
1 teaspoon paprika
1 tablespoon Worcestershire sauce
1 tablespoon tomato paste
½ cup chicken broth
1 gelatin sheet or 1 tsp granulated gelatin
NOTES: The inside filling should be juicy, the trick is to render the liquid like chicken or beef stock that you use to flavor the empanada filling and then chill the filling so the liquidy portion remains gelified and won't leak while you fill the empanadas. The filling is probably way more filling then the dough, use leftovers for pot pies, add tomato sauce and serve over pasta or rice, add cheese for a casserole. Or double or triple the dough recipe and freeze empanadas filled and baked, for months!
Directions: Emapanada Dough
Mix the flour and salt in a food processor.
Add the butter and pulse.
Add the egg and the water or milk (in small increments) and continue pulsing until a clumpy dough forms.
To make the empanada dough by hand, follow the same instruction but use your hands to mix the ingredients together.
Split the dough into 2 large ball, flatten slightly into the shape of disks. The dough can be used immediately or refrigerated until ready to use (1-2 days max).
Roll out the dough into a thin sheet and cut out round disc shapes for empanadas (use round molds or a small plate). You can also make small individual balls with the dough and roll out each individual ball to a round shape (doesn't need to be perfectly round) - if you have a tortilla press you can use it to flatten the dough balls.
Use immediately, or store in the refrigerator/freezer to use later.
When crimping the dough together use an eggwash or water to moisten the two edges, otherwise the filling will leak out.
Using a egg-wash coat the top of a filled empanada, repeat until sheet pan is full. 375 degrees F for 20-25 minutes (or until golden).
Directions: Beef and Potato Filling
Place a large skillet over medium flame. Add the ground beef, and cook, stirring for 5 minutes, until the meat gets browned. Add the onion and garlic and continue to saute until the onions sweat and become translucent.
Add the diced red pepper, green bell pepper, diced potatoes, and olives. Cook for another five minutes stirring occasionally.
Season the mixture with the eight spices, then add the Worcestershire sauce, and tomato paste. Mix thoroughly and cook and stir for 5 minutes, until the mixture is soft.
Pour in the chicken broth and simmer for 3 minutes. Using 1 tblsp room temperature chicken stock add in the gelatin sheet when pliable add to the filling mixture and mix well.
Allow the filling to cool, then place in the fridge for 1 hour, before stuffing the empanadas.