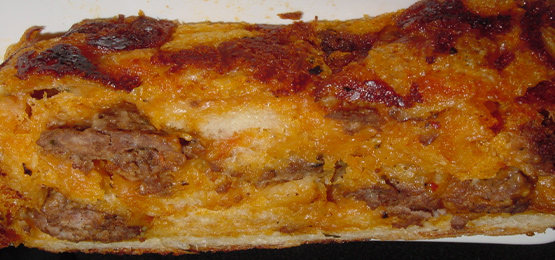 Cheesy Meat Bread

(Serves 8-10)


1 pkg rapid action yeast
1 tsp sugar
2 cups all purpose flour
1 tsp salt (for dough)
1 cup hot water (120-130°F)
1 cup mozzarella cheese, shredded
1 cup 5 cheese Italian blend, shredded
1 tblsp olive oil
1 tblsp red wine
¾ lb ground beef
1 tsp Italian Spices
½ can Hunts tomato paste (3oz)
1 tsp salt (for beef)
2 tblsp butter, melted or really soft


NOTES:

Mix hot water, yeast and sugar, let proof about 5-10 minutes (until it foams). Mix in the flour and salt until a dough forms.

Knead dough for a few minutes and then cover with a small tea towel for about ½ hour or until dough double in size.

In the meantime, in a small bowl, mix the tomato paste, Italian spices, red wine, olive oil, butter and salt.

Put the ground beef in a skillet in one large patty and sprinkle the salt and Italian spices onto it. Fry 2 minutes each side should be good enough to cook it all the way through. Now break the meat up into ¾ inch chunks. Mix the meat chunk with the red sauce mix.

Once the dough has risen, push the dough down and then fold in the cheeses. Keep overlapping the previous fold or roll.

Now fold in the sauce and meat mix. It will probably look similar to a strudel roll which is fine.

Put in a greased meatloaf/bread baking dish and cover with a tea towel for another ½ hour. Pre-heat the oven to 350°F 10 minutes before the 30 minute last dough rise is complete.

Put the cheesy meat bread in the oven (center rack middle) and back for about 30 minutes.

When removing the bread from the oven, let the bread cool down a bit in the bread pan/dish, other wise the weight of the bread upon itself, without the supporting sides of the bread dish will fall into itself resulting in a more doughier finished product.

With that being siad the first time you make this you will want to eat some after 5 minutes, it's only natural. Enjoy!