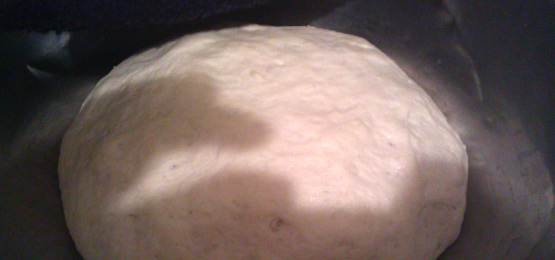 Pizza Dough
(makes 1 lg pizza)

1 cup warm water (105 degrees)
1 package active dry yeast
1 tsp sugar, fine
3 cups of all purpose flour
1 tsp salt, fine
1 tblsp olive oil


NOTES: Our family likes to stuff little balls of dough with pepperoni and cheese and give them a deep fry. (Bitzels)
Instructions
In a large bowl, add the yeast, sugar ad 1/4 cup of the warm water. Mix and let sit for 10 minutes. The yeast should now be foaming and smell yeasty.
In a separate large bowl mix the flour and salt together. Make a well in the center. Add the proofed yeast, the rest of the warm water and the olive oil.
Mix until it forma a dough. Kneed the dough for 5-8 minutes or until it appears elasticity.
Form the dough into a ball and place in a clean bowl covered loosely by a tea towel. Check back between 1-2 hours. The dough should be doubled in size. Punch down dough and make your pizza!