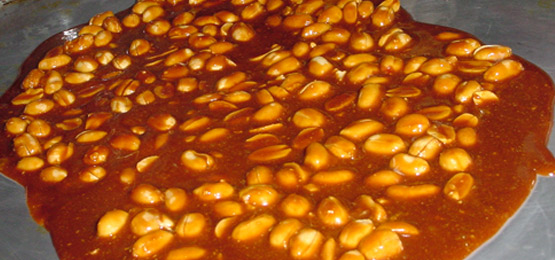 Peanut Brittle (Soft)
(makes about 3 lbs)

2 cups sugar
¼ cup water
1½ cups light corn syrup
2 cups salted peanuts
2-2½ cups peanut butter
½ tsp vanilla
1½ tsp baking soda


NOTES: Be ready! Have whatever tool you're using to spread the candy, out, when you pour the candy onto the cookie sheet. It hardens that quick!
Instructions
Combine the sugar and water in a heavy sauce pan and bring to a boil over high heat, stirring constantly.
Stir in corn syrup. Cook to hard crack stage, 300º on a candy thermometer.
Meanwhile, mix the peanuts, peanut butter and vanilla.
Remove the syrup from the heat and add quickly the peanut mixture and the baking soda, stir.
Working very quickly, pour the candy onto the cookie sheet and spread it evenly out.
Cool, break into pieces and enjoy!