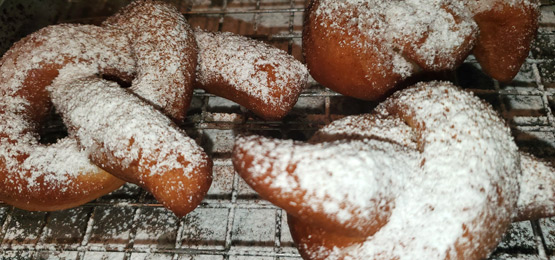 Beignets
(makes about 20)

1 package dry active yeast
2/3 cup warm milk
1 egg
4 tblsp butter, softened
¼ cup sugar
1 tsp vanilla
½ tsp salt
1 tsp lemon zest, grated
2¼ to 2+2/3 cups all purpose flour
Oil for frying
powdered sugar


NOTES: Made famous at the Cafe DuMonde in New Orleans! Delicious!!
Instructions
Sprinkle the yeast over the warm milk in a large bowl, stir and let stand about 5 minutes to dissolve. Add the egg, butter, sugar, vanilla, salt and lemon zest and beat until blended; small lumps of butter will dissolve with further mixing. Add 1½ cups flour and beat vigorously until smooth. Add enough of the remaining flour to make a soft but manageable dough.
Turn out onto a lightly floured surface and knead for 2 minutes, then let rest for 10 minutes. Resume kneading for another 7-10 minutes, or until the dough is smooth and elastic, sprinkling on additional flour to keep it from being too sticky.
Place in a greased bowl, cover and let rise until double in bulk.
Punch the dough down and on a floured surface, push, pat and roll it to an 8x16 inch rectangle. Using a sharp knife, cut into strips about ¾ inch wide and 8 inches long.
Form each strip into a loose knot. Let the beignets rise, about 30 minutes.
Heat at least 2 inches of oil to 365º . Fry 3 or 4 beignets at a time, turning them frequently until puffy and golden brown, 2-3 minutes total. Remove with a slotted spoon, drain on paper towels. Sieve a light dusting of powdered sugar over them while still warm.