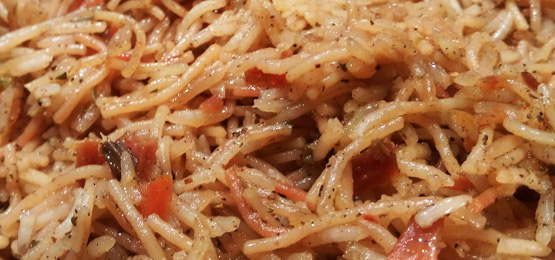 Rob-a-roni

(Serves 2-4)

¾ cup Basmati Rice
1/3 cup angel hair pasta (or vermicelli), broken into ½ inch pieces
2 tblsp mixed, dried, vegetables
1 tsp Poultry Seasoning
¼ tsp granulated garlic
¼ tsp black pepper
½ tsp Italian Seasoning
pinch of Cayenne pepper, optional
1 tblsp butter
1 & ¼ cups chicken stock

NOTES: The dried vegetables can be found in the spices section of most grocery stores. These vegi's are also great mixed into a container of sour cream for chip and dip time! Just let them sit in the sour cream for a few hours or overnight. I use 'Better Then Bouillon' chicken stock. About two tsp for 1 cup and ¼ water. Best Bouillon ever!

Mix all the dry ingredients together. In a skillet over medium heat add ½ the butter, melt and toss in all the dried ingredients. Saute these until some of the pasta strands get a little bit of color, around 3 minutes.

Now add the chicken stock and stir. Bring to a boil and then reduce the heat to a low simmer and cover.

Simmer for 15 minutes, now turn off the heat and add the other ½ of the butter, cover and let sit two minutes. Stir and serve!