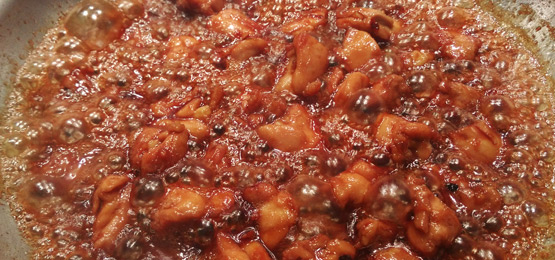 Bourbon Chicken
(Serves 2)
4-5 boneless chicken thighs, chopped into 1 inch pieces
¼ cup soy sauce
¼ cup brown sugar
¼ cup bourbon
1 tblsp rice wine vinegar
1 tsp ginger, powdered (or 1+½ tsp fresh ginger, minced)
1 tsp garlic, granulated (or 1+½ tsp fresh garlic, minced)
1 tsp dehydrated onion, optional
1 tsp red pepper flakes, optional
¼ tsp cayenne pepper, optional
2 tblsp peanut oil
NOTES: Substituting chicken breast for thigh in this dish is not recommended, it makes the chicken a bit too dry and it won't be as succulent! You may also want to double this recipe due to the extreme scrumptiousness!
Instructions
Combine the soy sauce, sugar, bourbon and vinegar, stir occasionally as you do other parts of this recipe, until the sugar dissolves.
In a medium or large fry pan, heat up the peanut oil on high, when hot add the chicken pieces, let sit and get brown before stirring or turning over. Cook completely, about 5 minutes.
Once the chicken is fully cooked, add in the sauce. Stir until chicken is fully coated and reduce until the sauce becomes thick and glazes the chicken. About 5-8 minutes.
Serve over mashed potatoes or rice.