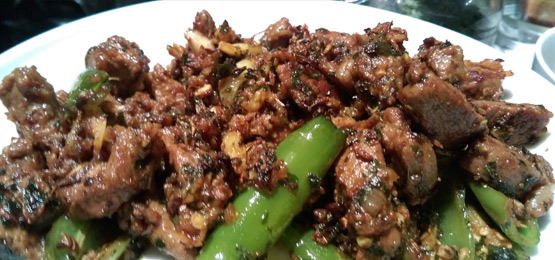 Dry Fried Lamb
Serves 1-2
2 tblsp Oil
Whole Garam Masala (1 tsp Fennel Seeds, 1 Cinnimon Stick, 2 Green Cardomom Seeds - cracked, 1 brown Cardomom Seed - cracked, 3 cloves, 2 bay leaves, 1 tsp cumin seeds)
1/3 cup diced white onion
1 tblsp ginger minced
1 tblsp garlic minced
1 tsp tumeric
3/4 - 1 lb lamb, boneless, cubed (@14 oz.)
1/2 cup water (to start)
2 tblsp butter
4 cloves garlic
1½ tsp cumin seeds
@ 40 black peppercorns
2 serrano chlis, destemed sliced in half length-wise, then in half length-wise again
12-15 Curry leaves, optional
1 tsp red chili powder
1 tsp cumin powder
1 tsp corriander powder
2 tblsp Cilantro, fresh, chopped
½ lime


NOTES:
Heat the oil in a pan on medium heat, add the whole garam masala spices, when the bay leaves 'crackle' add in the minced ginger and garlic. Add in the chopped onions, stir for about 1 minute. Add in the tumeric powder, once mixed in add the lamb cubes, toss in the oil and spices then add the water. Cook the lamb until tender, if you need more water add some in, keep covered if it is helping to tenderize the lamb.
Once the lamb is tender, between 20-30 minutes, set the pan aside. If the only liquid left is oil from the lamb, you can drain most of the oil out. In a new pan melt the butter, in a morter and pestel crush the 4 cloves of garlic with the black peppercorns and 1½ tsp of cumin seeds. After a minute add the halved green chilis and curry leaves, if your using them.
Add the chili powder, corriandor powder, cumin powder, stir well. Now add the lamb, evaporate any of the liquid left. Now add chopped cilantro. Finish with a squeeze of lime juice. Enjoy over rice or just as is.