Making Vegetables taste not only good, but great!
I don't eat broccoli, I don't eat tomatoes, I hate zucchini and don't get me started on brussel sprouts!
These are just a few of the words I used to say about vegetables which should be, according to the latest dietary guidelines "five to thirteen servings of fruits and vegetables a day" (2½ to 6½ cups per day). As far as I was concerned that was 2 cups too many. How can I enjoy vegetables without using an enormous amount of butter and cheese? Enter spices.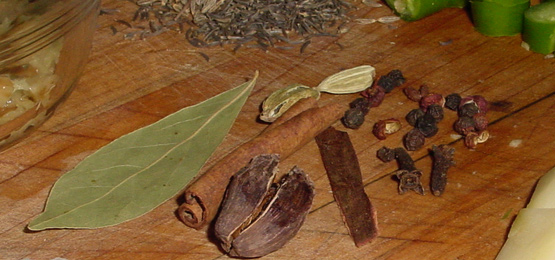 Garam Masala Spices - From left to right, clockwise: Bay Leaf, Green Cardamom, Black and Schezuan Peppercorns, Cloves, Black Cardamom and a cinnamon stick. Garam Masala means 'Hot Mixture' but hot in way that makes heat in the body, not necessarily spicy hot.
A restaurant I regularly dined at and enjoyed many vegetable dishes was of Indian/Pakistani influences. Their flavors seemed complex, their spices bold, spicy, sour, bitter and sweet. I never thought I would be able to cook their dishes and have them come out to equal the flavor, let alone supersede the flavor.
My two favorite vegetable dishes from this particular restaurant were Vegetable Biryani and Aloo Gobi. Vegetable Biryani to me is akin to Italy's Risotto or Spain's Paella or the Arabic dish Makloubah. Every region in the world has their version of a succulent rice dish.
Aloo Gobi is a mixture of cauliflower and potatoes with a classic sweet n' sour combo going on through the use of Methi Leaves (Fenugreek) and Amchour (Mango Powder). Both dishes use a classic mixture of garlic and ginger paste to start building flavors, while the Aloo Gobi dish has fewer ingredients and is faster to prepare, the amount of spices and the time required to prep the dish are much longer, the result can be stunning. No vegetable should taste this good!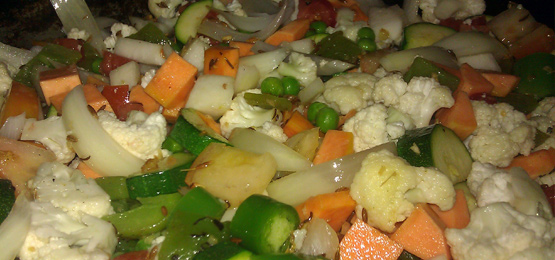 Coating the vegetables in the spices and oil.
There is a commitment to spicing up your food that many home cooks just don't get. A visit to my friends house revealed much about her spicing habits; Salt, Pepper, Cayenne Pepper, Lawry's Seasoning Salt, Italian Seasoning, Granulated Garlic, Parsley Flakes and Paprika. Sounds fairly typical.
But alas, I have 3 kinds of Paprika, a Spanish, a smoked and a hot Hungarian version. Why does one need more then one paprika? Easy to answer that because Paprika can range from mild to hot and can be altered by smoking it, even some spice companies add cayenne to heat up Hungarian paprika. I use the smoked version in my BBQ Sauce, I use the Spanish version for my deviled eggs presentation. Do you really need cumin powder and cumin seeds? Well since this is a blog about spices, yes, yes you do need both versions especially as in this dish, you want to retain the integrity of the whole spice. Unlike the cloves, bay leaf cardamom pods and cinnamon stick. you want to consume the cumin seeds as is for this layered spice profile.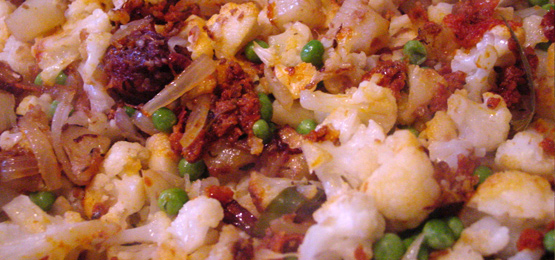 Vegetables beginning to cook.
In my Vegetable Biryani recipe, I use close to 19 spice varieties, with only a few that are needed to be acquired through a specialty store. If you make this recipe with all of the spices I used, you will start your journey down the unknown spice path and get a feel for the taste properties and pairings of some regular spices like cumin, coriander and chili powder, while getting a lot of new flavors I am sure you'll be excited to use in future kitchen experiments. Spice like Mace (the outer net-like coating of the nutmeg seed) and cardamom (yes, two kinds of cardamom!). The more you make this dish the more you can tweak the amount of each spice involved.
For instance, I really wanted to learn Mace, so I put in double the amount the recipes called for and kept everything else the same. Lets just say, I won't do that again, but I do now know where the balance is for Mace in this dish. I also did the same for the cumin seeds at the beginning of the recipe, which calls for them to be toasted in the oil first. I doubled the amount and left the rest of the recipe as is. Now I know where my range is for deliciousness.
Don't be intimidated by the sheer volume of spices. Don't be afraid that you will never use them all up (I guarantee you will make Biryani so much you'll need more of something!). Be brave in the new, yet ancient and ever expanding world of spices.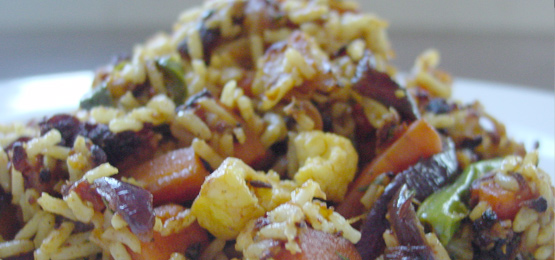 Time to eat!.
For more great Indian Cuisine please visit my favorite Indian Chef Sanjay Thumma over at Vahreyvah.com or see him on his YouTube channel.