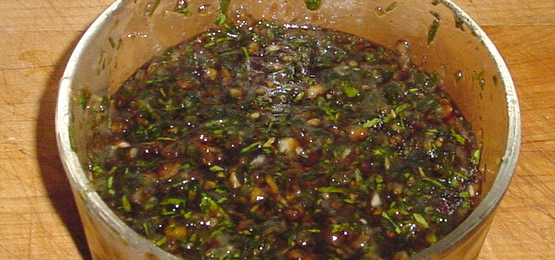 Thai Basil Marinade

3 tblsp fish sauce (nam pla)
2 tblsp molasses
1 tsp dark Chinese soy sauce
½ cup dry white wine or oriental rice wine (I use Mirin, a Japanese sweet wine)
¼ cup peanut oil
¼ cup chopped fresh basil
3 tblsp chopped fresh mint
4 garlic cloves, minced
2 tblsp chopped fresh ginger
3 shallots, chopped
2 tblsp chopped fresh lemon grass


NOTES: You can substitute for lemon grass, the zest of 3 or 4 lemons, minced.
Instructions
Combine the fish sauce, molasses, dark soy sauce and wine in a non-reactive mixing bowl.
Whisk in the peanut oil, a little at a time to emulsify it.
Add the rest of the ingredients. This marinade will keep in an airtight container in the refrigerator for 4-5 days. My favorite meat to use this marinade for is boneless chicken thighs. Marinate the chicken for @2-4 hours.
Shrimp also do very well in this marinade! Marinate the shrimp for @1-2 hours.