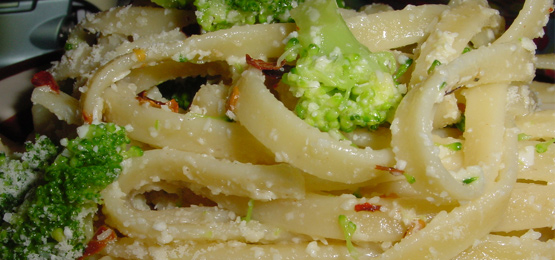 Fettuccine Broccoli Salad

(Serves 6-8)


1 lb fettuccine pasta
¾ lb (12oz) broccoli florets
1-2 tsp red peppers flakes
1¼ tsp salt
½ tsp Tony Chachere's Cajun Spice
fresh ground pepper
3 tblsp virgin olive oil
¾ cup Parmesan cheese (Kraft is perfect, you want the cheese to be almost a powder)


NOTES:

In salted boiling water, blanch the broccoli florets for 30 seconds to a minute. Remove and cool down with running cold water, drain and set aside.

I used the same water and dropped the fettuccine in for about 12 minutes. Make sure you stir the pasta often so it doesn't stick. When 'al dente' or to your liking, remove from boiling water and rinse in cold water, drain.

In a large bowl combine the pasta, broccoli, olive oil, red pepper flakes, Parmesan cheese, salt, pepper, Tony Chachere's Cajun Spice. Toss until the pasta and broccoli are coated well with the cheese, olive oil and spices.

Taste and adjust seasonings if necessary.
Bon Appetite!