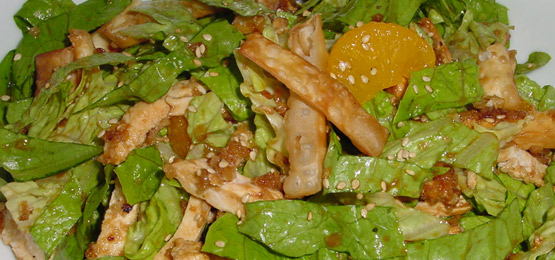 Sesame Orange Chicken Salad
(Serves 8)
1/3 package of 'Mainfun' Rice Stick Noodles (Or wonton wrappers)
3 breasts of chicken, filleted open
2 Heads of Iceberg Lettuce, (When its time to serve), cut into strips, 1/4" x 3", (or shredded)
1/3 cup sliced almonds, toasted 1 tblsp Tony Chachere's Cajun Spice
2 tblsp Hoisen Sauce
1 tblsp peanut oil
1/3 cup Japanese bread crumbs (Panko)
1 tblsp sesame seeds, toasted (optional)
1 Serrano chile, partially deseeded, sliced very thin, (optional)
2 bunches fresh cilantro, (When its time to serve), chopped medium
12 mint leaves, (When its time to serve), chopped fine, (optional)
1 small can of drained tangerine segments, or a tangerine that's been segmented (removed of its skin and pith - little wedges)(optional)
NOTES: You can use regular bread crumbs if you don't have Panko style bread crumbs. You can fry strips of wonton wrappers in place of Maifun noodles.
INSTRUCTIONS
Spread apart and deep fry the Rice Stick Noodles, until they puff/crackle up, (takes only a second). Or if your using the wonton skins (as in the picture), you would slice them ¼ inch wide about 2 inches long, then deep fry them. They are done in 10 seconds each side, fry only as many as you can turn fast.
Coat the filleted chicken breasts with Tony Chachere's Cajun Spice, then Hoisen Sauce, a thin coat, then coated with Japanese bread crumbs and toasted sesame seeds (optional).
Heat a tblsp of peanut oil until its very hot, add the chicken breast patties and cook for 1 minute on each side then pull off heat, drain and let cool, then cut across the grain in very thin strips.
You can now wait until its time to serve the salad before you assemble all the ingredients.
I like chopping up only 1 head of the lettuce and using 1/2 the ingredients for a fresher 2nd salad. And they always want more!
Assemble the Lettuce, the chopped cilantro (mint and chilies, if using), the fried noodles, the toasted almonds, sliced chicken. Toss until mixed.
Coat with Orange Sesame Dressing. Add tangerine segments (if using). Serve.