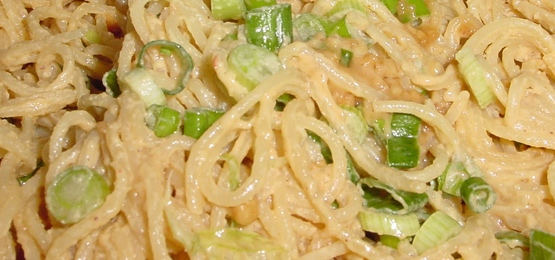 Thai Noodles With Peanut Sauce
(serves about 20)

3 packs of Rice Noodles
2 cups of peanut butter
2 Serrano chilies (green), seeded, diced fine (optional)
2 garlic cloves, minced
3 tblsp sugar
½ tsp cayenne pepper
¼ cup white wine vinegar
¼ cup lime juice
½ cup soy sauce
¼ cup sesame oil
1/8 cup olive oil
2 bunches green onions


NOTES: You can substitute rice noodles for 1 lb of cappellini pasta or angel hair pasta. You can also substitute the white wine vinegar for rice wine vinegar.
Instructions
Cook the noodles al dente. Cold shock the pasta in an ice bath then when cooled, drain and set aside
In a food processor or robo-coup, process the garlic and chilies. Then add the peanut butter, sugar, cayenne pepper, vinegar, soy sauce and lime juice. Process until mixed well.
Slowly drizzle in the sesame and the olive oil.
Mix the peanut sauce with the pasta.
Chop up the scallions, (green onions), into small pieces and mix into the pasta.
Yum! Great at room temperature!