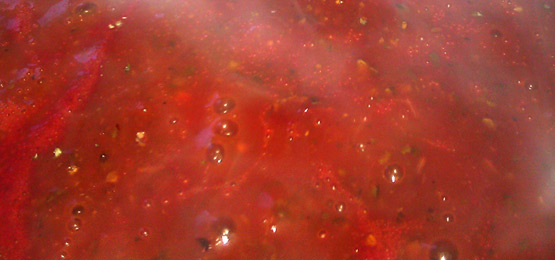 Red Sauce (Fast Version)
(Serves 4)


1 can Hunts tomato Paste, 6oz
1 tsp onion flakes, dried
cracked black pepper, to taste
1-2 cloves of garlic, crushed and minced
¼ cup red wine, I prefer a Merlot, Cabernet or Shiraz
1 tblsp olive oil
½ cup chicken stock, optional
salt, to taste
1 tsp basil leaves, dried
1 tblsp Italian Spice mix, dried
1 tsp red pepper flakes
1 tblsp Parmigiana Reggiano cheese, grated

NOTES: Save the rind of your Parmigiana Reggiano cheese and use it, instead of the 1 tblsp fresh grated cheese, just remember to remove it from the sauce before you serve!
In a large skillet or sauce pan, on medium to low heat, add the olive oil, let it warm up, then add the minced garlic, stir and cook for about 1 minute.
Do not let your garlic get browned! At this point add in your tomato paste. Let it 'brown' for 30 seconds and flip it to the other side and do the same, this will bring out a more pronounced tomato flavor. Do not let your garlic get browned!
Now pour in the ¼ cup of wine over the tomato paste and garlic. Give it a stir and add water or chicken stock while stirring with a whisk. You want just enough to thin it out and a little more that will cook out. Now add in your Italian Spice and red pepper flakes, stir well. Add in your rind of Parmigiana Reggiano or your fresh grated cheese. Stir and let simmer on low heat. About 5 minutes or so.
Have a taste. Need salt? Yup, add in a small amount at first, perhaps a tsp. Taste again. adjust salt if necessary. Add some fresh cracked black pepper if you desire.
If you used the cheese rind, remove it now and serve over fresh hot pasta or use with a delicious lasagna!
Enjoy!