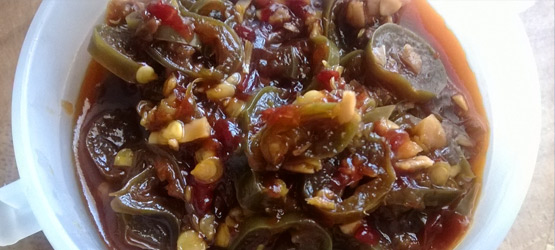 Salty Hot Pepper Side
(Makes 6-8 oz)

12 Serrano Chilies
3 cloves garlic, minced fine
4 tblsp Sambal Oelek chili sauce
¼ cup soy sauce
2 tsp salt
1 tblsp olive oil

NOTES: I started making this for a rice dish I was trying to mimic called 'spicy crispy chicken over rice'. The chicken was easy, make nuggets deep fried. The rice even easier... make rice. The trick I found was this tiny amount of salty spicy mix that there was never enough of! Here is my version of that salty spicy mix!
In a medium sauce pan add the olive oil, when warm, add the sliced Serrano chili peppers. Sprinkle half the salt, 1 tsp, over the peppers. Cook down until soft, about 3 minutes, then let some get a tiny bit crispy, mix well. At this point add in the minced garlic and the last tsp of salt. Stir. let saute for 2 minutes. add in the Sambal Oelek, mix then add the soy sauce. Let simmer for 2-3 minutes. (the longer the more concentrated the saltiness). Use with your favorite recipes that call for some heat! Good in cheese dips, salads, pastas, breads spreads, etc! Enjoy!
Store in refrigerator in small Tupperware covered containers.