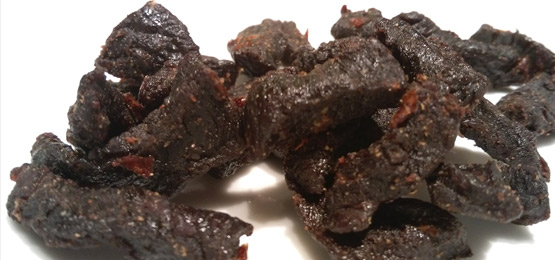 Habanero Orange Beef Jerky
(Makes about 32 Ounces)
3.5 to 4lbs Beef, Top Round or London Broil
2 tblsp Onion Powder
2 tblsp Black Cracked or Ground Pepper
1 tblsp Garlic Powder or Granulated Garlic
3/4 Cups Brown Sugar
1 Cup Soy Sauce
½ Cup Worcestershire Sauce
½ Cup Sherry Vinegar
6 tblsp Liquid Smoke
½ Orange Juice
7 Habaneros
NOTES:

In a blender or food processor pulverize the Habaneros, minus the stems.
In a saucepan add the Brown Sugar, Soy Sauce, Worcestershire Sauce, Sherry Vinegar, Liquid Smoke, Orange Juice and Habaneros.
Under low heat, heat and whisk until the sugar dissolves, about 2 minutes, then take off the heat and let cool completely.
Trim any silver skin and fat off the outside of the beef.
Cutting against the grain, slice slabs of beef ¼ inch thick. When all the beef is cut into ¼ inch thick slabs, look on both sides of the slab for thick veins of fat, trim these away as leaving them in reduces the time they stay edible and also can go rancid.
Now cut the trimmed slabs of beef into pencil sized sticks, depending on how long they are you may want to cut them in half (or thirds if using a London broil cut of beef).
Add the onion powder, garlic powder and black pepper to the beef strips. Let sit, covered, in the refrigerator while the marinade cools.
Place the beef pieces into the marinade and mix up. Cover the bowl with plastic wrap and refrigerate for at least 4 hours, 6-8 hours is ideal, overnight is fine.
Drain the liquid off, it's fine to have bits of the pepper and spices on it.
Line your trays with their non-stick screens, or if using an oven, line cookie sheets with parchment paper.
Place the beef pieces in a line a ¼ inch away from any edges, and leaving a ¼ between rows, and fill up the trays/cookie sheets.
If you are using a dehydrator, set it on jerky or 170° F.
If you're using the oven set it at its lowest temperature, then keep the door of the oven open a crack. 170 is the ideal temperature. (If you have no way of knowing your ovens temp with the door open, you must pay closer attention and your time is less then the dehydrators time.
Dehydrator time varies on the doneness you like. test one at 6 hours, then at 7 hours. My latest batch was at 9 hours but my average dry time is 8 hours.
Let cool down, package in portions inside seal-a-meal bags or zip-lock bags.
Your jerky is safe refrigerated for at least 2 weeks, but they're addictive and I bet it won't last toes 2 weeks!