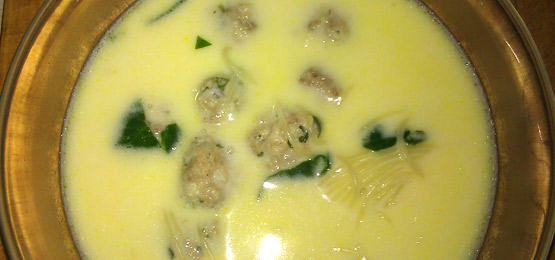 Italian Marriage Soup
(Makes 6 large bowls)
1 cube sweet butter
1 cup Romano cheese
4 egg yolks
1 cup sweet whipping cream (if its not sweet, just add 3/4 tablespoon sugar to it)
1 cup white wine
2 cups chicken broth
2 cups water
½ lb. angle hair pasta
NOTES: Although far from a traditional "wedding soup", you can add some greens like spinach, collard or kale and drop in some mini meatballs, although I don't think this version needs it!
INSTRUCTIONS
Cream the butter and the cheese (this is best done with a food processor), then add the yolks and cream. Mix well.
Cook the pasta in the broth, wine and water. When the pasta has reached "al dente", just right for you, remove from heat and then add a small amount of the cheese mixture, mix well, then add the rest of the cheese mixture mixing as you add. Serve immediately! Delicious!