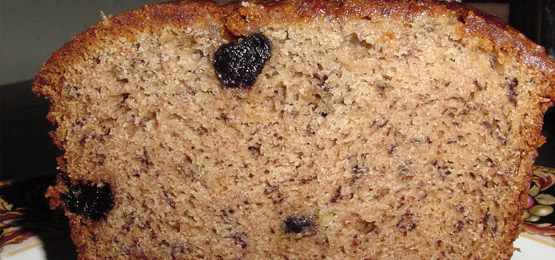 Banana Bread
(serves 6-10)
½ cup of butter (room temperature) (1 stick)
1 cup of white sugar
2 eggs
1/8 tsp salt
1 tsp baking soda
2 cups of white flour
3 large bananas, very ripe, mashed
1 tsp cinnamon
½ cup finely chopped pecans (optional)
NOTES: You can compliment this bread with a ¼ cup to ½ cup dried fruit, like blueberries.
Instructions
Pre-heat the oven to 250° F. for 10 minutes, meanwhile:
Cream together the butter and the sugar, until it turns a light yellow, about 2 minutes.
Add the eggs, one at a time, beating well after each addition.
Add the mashed bananas and nuts if you're using them.
Mix the flour, baking soda, salt and cinnamon together. Then incorporate it into the banana, egg, butter, suger mix. Mix well.
Lightly grease with butter or spray release a loaf pan.
Pour the banana bread batter into the greased loaf pan and bake for about 1½ hours.
Check with a toothpick inserted into the center of the cake, if it comes up with batter it's not done yet!
Let cool, or don't, eat it up yum.