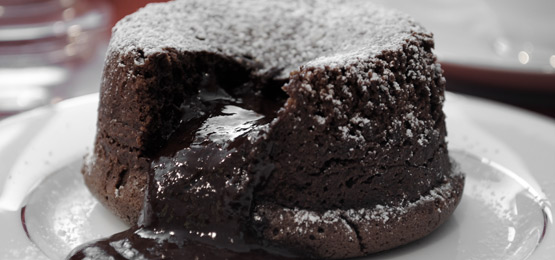 Molten Chocolate Souffle
(Makes 12, 6oz ramekins)
12 oz bitter-sweet chocolate chips
1½ tblsp butter
1½ tblsp all purpose flour
¾ cup milk
4½ egg yolks
1½ tsp vanilla extract
6 egg whites
¼ tsp cream of tartar
3/8ths cup of fine white sugar
4 tblsp confectioners sugar (for dusting)
whipped cream, lightly sweetened (for garnish)
raspberries (for garnish), optional

NOTES: Also known as Chocolate Volcano.
Pre-heat oven to 350°F Lightly butter ramekins and dust with confectioners sugar, place on a cookie sheet and set aside.
In a double boiler, over barely simmering water, melt the chocolate, stirring occasionally until smooth. Remove from heat.
In a small sauce pan melt the butter over moderate heat. Stir in the flour and cook until thickened but not browned, 1-2 minutes. Add the milk and whisk briskly until smooth and thick, about 3 minutes. Remove from heat. Add the melted chocolate and whisk until smooth. Whisk in the egg yolks and vanilla extract. Set aside.
In a medium mixing bowl, beat the egg whites and cream of tartar until soft peaks form.
Gradually sprinkle the granulated sugar on top and beat at high speed until the egg whites are stiff but not dry.
Using a rubber spatula fold ¼ of the whites into the chocolate mixture to lighten it, then fold in the remaining whites.
Spoon the mixture into the ramekins (¾ full) (at this point they can now be covered up and refrigerated, up to one day in advance.)
Bake 15-17 minutes, until puffed and slightly cracked. Upon insertion of a wooden stick/toothpick, it should be moist, not runny.
Serve warm with whipped cream and/or fresh berries like raspberries!