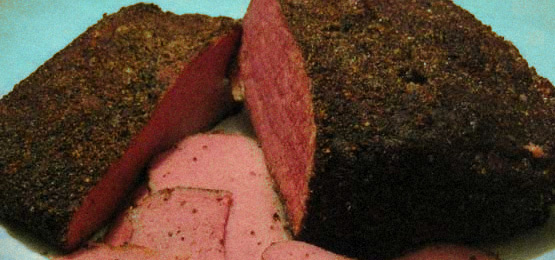 Pastrami

(Serves 12-15)

5lb beef plate or brisket

The Brine

1 gallon water (4 liters)
1½ cups kosher salt
1 cup sugar
1½ ounces Pink Salt (8 tsp)
1 tblsp Pickling Spice
½ cup Brown Sugar, packed
¼ cup Honey
5 Garlic Cloves, minced

The Smoke

1 tsp Black Mustard Seeds, toasted, ground
1 tblsp Black Pepper Corns, toasted, ground
1 tblsp Coriander Seeds,toasted, ground
1 tsp Crushed Red Pepper, ground



NOTES: Good food is sometimes about simplicity like farm fresh vegetables, and just some S&P and maybe a dab of butter, but pastrami is about what you are willing to put into it! Does it really need these multiple seperate steps? Probably not, but the product you end up with might not be up to 'your' standards, the best you can make it be!

 

Combine all the brine ingredients in a large pot and bring to a simmer, stir until the salt and sugar have dissolved. Let cool to room temperature, then refrigerate until chilled, about 2 hours.

If you're using brisket cut, trim the top fat cap to within ¼ inch. Place the beef plate or brisket into the brine, to keep the beef under the brine, put a weight on top of it, like a plate and refrigerate, OR place the beef into a large zip-lock bag and then pour the brine into the bag, zip up and place into a container in the fridge to catch any leakage. Make sure the beef is surrounded by the brine on all sides no matter which method you use. Keep refrigerated for 5 days.

Remove the beef from the brine, throw the brine away, rinse the beef of the salts and blot with paper towels until dry.

Mix the spices together from The Smoke section. Cover the beef evenly on all sides.

I am using pecan wood to smoke the pastrami, I hear apple wood is also excellent! since I do not have a way to cold smoke it first, I will get my smoker to 220° F. and put the beef in for 5-6 hours or until the internal temperature of the pastrami reaches 150° F.

I am sure if you couldn't wait, you could eat the pastrami now! But, in this recipe we will let the pastrami cool completely and then wrap in a layer of plastic wrap and a layer of foil and then refrigerate for 12 - 24 hours.

Now comes the steam! In a roasting pan, add an inch of water, place a rack inside to elevate the meat away from the water, cover tightly with a lid, or foil, if using foil don't let the meat touch the foil, bring to a simmer on top of the stove and transfer to a 275-300° F. oven until it reaches an internal temperature of 160° F., replacing water if necessary. If you are using a temperature probe you should insert it before covering and placing into the oven.

Once you hit 160° remove from oven and let rest 45 minutes, slice thin and against the grain.

A traditional pastrami sandwich is made on rye bread with mustard on both sides, with a side of pickles.