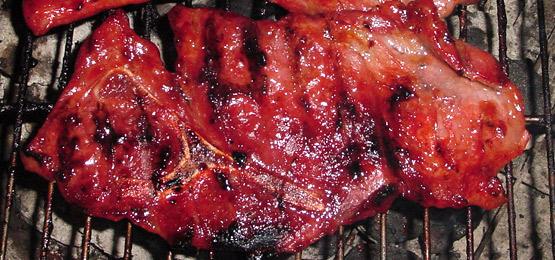 Char Siu Marinade
(marinates @ 3lbs Meat)
½ cup sugar
3 tblsp sweet sherry
2 tblsp soy sauce
½ cup hoisin sauce
2 tsp minced fresh ginger
½ tsp
Chinese five-spice powder
1 tsp. salt
½ tsp red food coloring
NOTES: You could marinate the meat for less time, but you won't get that nice ring of color that this meat is known for, I usually go all three days unless I use a thinner cut of pork.
My favorite cut of meat is the cheap cut of pork shoulder or butt, cut into thin steaks (bone-in).
Marinate for 3 days, rotating the meat cuts once a day.
Mix the sugar into the sherry and soy sauce until sugar is dissolved.
Add the rest of the ingredients and blend well.
Marinate meat at least 2 hours, up to 3 days, no longer.