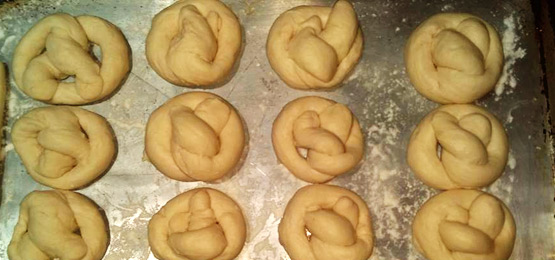 Soft Pretzels
(Serves 4-6)
1 pkg dry active yeast
1½ cups warm milk (110° F.
1 tblsp sugar
33½ - 4 cups of flour
1 tsp salt
2 quarts water
2 tblsp baking soda
1 egg beaten with 2 tblsp water (for egg wash)
coarse salt

NOTES: 
Mix the yeast with the milk and sugar, let if "proof" (get foamy) for 10 minutes.
Place 3½ cups flour and the salt in a food processor.
With the motor running, pour the yeast milk mixture in.
Pulse intermittently until the dough forms a ball and it cleans the sides of the bowl. If the dough is too sticky, add more flour, pulsing intermittently.
Turn the dough into an oiled bowl, cover, put in a warm place. Let the dough rise until doubled in size, about 1 hour.Pulse intermittently Punch the dough down and divide into 20 pieces. Form each piece into a pretzel shape and place on a flored surface.
Let rise ½ hour until double in size.
Preheat the oven to 400° F.
In a l;arge skillet, bring the water and baking soda to a simmer.
Place 2 or 3 pretzels at a time in the water and simmer 30 seconds each side. Remove and drain on a rack.
Place a second cookie sheet overed in parchment paper. Keeping the original top sides up, brush each pretzel with the egg wash and then sprinkle with the coarse salt.
Bake for 18-20 minute.
Serve with a dipping mustard or some melted gooey cheese!