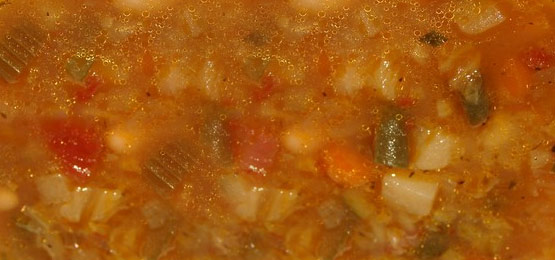 Minestrone Soup
(Serves 8-12)
33 oz of red beans
3 tsp salt
1+1/2 tsp garlic powder
3/4 tsp white pepper
3 tblsp olive oil
3 small zucchinis, diced small
6 small carrots, diced
6 green onions, chopped
9 tblsp butter
24 oz tomato sauce, (mix paste with water until thinned out)
7 and 1/2 cups chicken stock
1 cup table red wine
1 cup elbow macaroni
NOTES: Everybody's idea of "Al Dente" is slightly different. Literally "Al Dente" means "to the tooth". So my Al Dente is when you can easily bite through the pasta, without any crunch, just not mushy!
Mix all ingredients except the wine and macaroni. Bring to a simmer over medium heat. Simmer for 5 minutes or until the carrots are almost cooked.
Add the macaroni and wine and simmer until the macaroni is "Al Dente". Do not over cook!